Oval-8® Finger Splints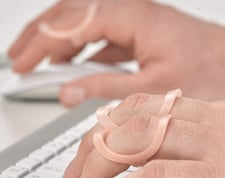 Distinguished by their 3-points of pressure, Oval-8® Finger Splints use an open air design to treat over 6 conditions that affect the IP joints of the fingers. Highly effective, the Oval-8 allows patients to maintain full hand function.
Oval-8 Splints are the only splint that can be worn to treat all of these conditions: mallet finger, swan neck and boutonniere deformities, trigger finger and trigger thumb, lateral deviation, fractures, arthritis, and hypermobility (EDS).


Oval-8 Learning Center
The Oval-8 Learning Center is a resource for Health Care Professionals for learning about conditions treated, sizing, fitting, adjusting and purchasing Oval-8 Finger Splints.
CONDITIONS
– learn how to treat a variety of different finger problems with a simple turn of the splint.
SIZING
– learn how to measure for the correct size for the perfect fit.
ADJUSTING
– learn how to make slight adjustments to provide a custom fit (Health Care Professionals only).
PACKAGING
– view packaging options to make the best purchasing choice.
BUYING
– find options for where to purchase the Oval-8.
VIDEOS
– watch how to fit and adjust the Oval-8 and how to treat a variety of finger conditions.
FAQ's
– find answers to the most common questions about the Oval-8.
TESTIMONIALS
– see what Health Care Professionals are saying.