Oval-8® Sizing Set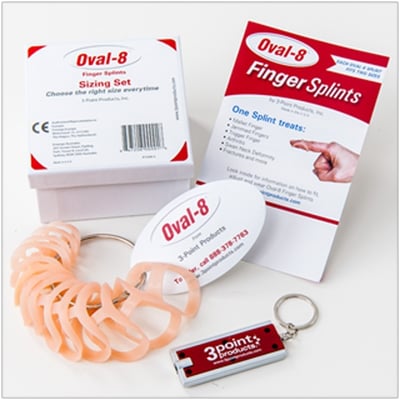 A precise fit yields the best treatment outcomes. With one of each of the 14 size Oval-8 Finger Splints, the Sizing Set allows you to quickly and accurately determine which size fits comfortably and securely on the finger. Great for small clinics who want to size a patient and order on an as needed basis.

Healthcare Professionals:



U.S. Shoppers:


You will be redirected to our web store, ohmyarthritis.com
Features
The Oval-8 Sizing Set includes one each of the fourteen sizes, 2 through 15
The easy-to-open ring keeps the splints organized and makes it easy to choose a size or range of sizes to try on your patient
Once the correct size has been determined, simply order the splints individually, in quantity packages or in cost effective combo packs with a range of sizes in each package

Caution: Oval-8 finger splints are not recommended for children under age 4 as they may cause choking if swallowed
*If you find yourself needing to order Oval-8 Finger Splints more frequently, consider buying an Oval-8 kit. The full Kit allows you to stock and organize splints for immediate dispensing to avoid delay in treatment.


Resources
Oval-8 Videos


Testimonials
Instruction Card
---
| | |
| --- | --- |
| | For details on how to size, fit and purchase Oval-8 Finger Splints, download the Oval-8 eBook for Health Care Professionals! |

You Might Also Like