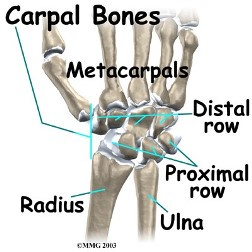 Anatomy of the Wrist



The carpal bones of the wrist make 2 rows of bones, the proximal and distal carpal row.
Ulnar Sided
Midcarpal instability (MCI) is related to lack of ligament support between the proximal carpal row and the midcarpal joint (between the 2 rows of bones). Midcarpal instability is most often of palmar type, but can also be considered dorsal or extrinsic depending on the specific ligament(s) involved in causing the instability.
Read More