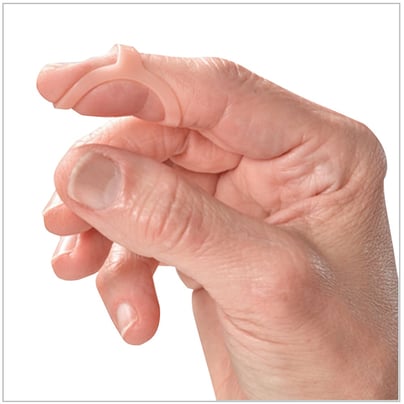 Oval-8 Finger Splints are the ideal choice whenever you need to stabilize or immobilize the small joints of your patient's fingers. The versatile 3-point pressure design allows each Oval-8 Finger Splint to treat 6 or more conditions with a simple turn of the splint.

Use Oval-8 Finger Splints to quickly and effectively treat: mallet finger, swan neck and boutonniere deformities, trigger finger and trigger thumb, lateral deviation, arthritis, fractures and hypermobility (Ehlers-Danlos syndrome).
Ordering Information
Healthcare Professionals:

Patients/Consumers:


You will be redirected to our online store: ohmyarthritis.com
Product Features
Molded plastic splints have broad bands and rounded edges for comfort
Each splint has adjustable sizing built right in to accommodate mild edema or changes in finger size due to swelling, temperature change or time of day
Open-air design keeps skin clean and dry
Waterproof splints can be worn in water when washing hands, showering or swimming
Comfortable and effective splints take seconds to fit and are 100% latex free
An accurate fit is the key with Oval-8 Finger Splints.
Learn How to Wear the Oval-8 Finger Splint to treat finger conditions.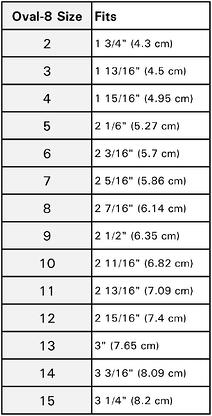 Product Resources
---
Oval-8 eIFU (electronic Instructions For Use):

Presented in:

English Danish German Spanish

French Italian Dutch Swedish



Health Care Providers

Download the Oval-8 eBook for Health Care Professionals for details on how to size, fit and purchase Oval-8 Finger Splints.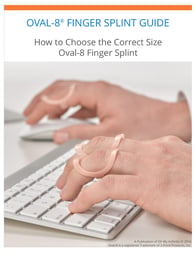 Patients/Consumers
Are you a patient looking for more information on Oval-8 Finger Splints? Take a look at the consumer e-book "How to Choose and Size Your Oval-8 Finger Splint"