Oval-8 Finger Splint - Sizing Guide
The Oval-8 Sizing Guide is an alternate method for measuring finger joints to determine the Oval-8 Finger Splint size(s) most likely to fit. Simply download the paper measuring guide to print and cut out to measure the injured finger joint.
Watch the How to Choose the Correct size Oval-8 Finger Splint video for step-by-step instructions on how to use the Oval-8 Sizing Guide.
Click the image below to download and print the sizing guide: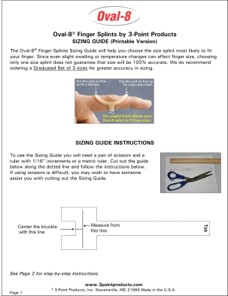 Are you a consumer looking for more information on Oval-8 Finger Splints? Take a look at the ebook "How to Choose and Correctly Size Your Oval-8 Finger Splint".