Oval-8 eBook for Health Care Professionals
How to Size, Fit and Purchase Oval-8 Finger Splints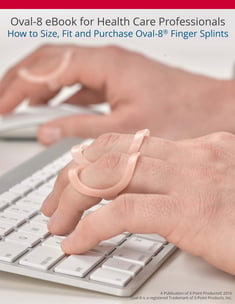 Download the Oval-8 eBook for Health Care Professionals to learn how to use Oval-8 Finger Splints to successfully treat your patients in your practice or clinic. Learn how Oval-8's quickly and effectively treat mallet finger, swan neck or boutonniere deformities, stop trigger finger and thumb, support unstable joints, protect healing fractures and more.

In this ebook, you will learn:
• How the design of the Oval-8 Finger Splint works to stabilize fingers
• How to fit Oval-8's to treat a variety of finger conditions
• What options you have for choosing the correct size splint for your patients
• How to customize the fit of an Oval-8 in seconds
• The most economical way to purchase Oval-8 splints for your clinic
If you are a patient/consumer looking for more information on Oval-8 Finger Splints?
Take a look at the ebook for consumers "Oval-8 Finger Splint Guide"
Fill out the short form below to download the Oval-8 eBook for Health Care Professionals