3pp® Buddy Loops®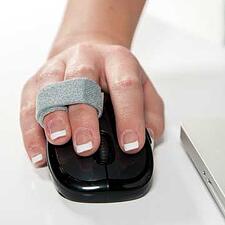 3pp® Buddy Loops® eliminate the need for messy, sticky tape and provide secure, reusable finger protection. Ideal for protecting swollen fingers, sprains, jammed fingers and minor fractures.
Features
Easy-to-apply loop and wrap design holds fingers securely together.
Use one or two 3pp Buddy Loops as needed for control.
Soft, foam-lined straps will not slip or roll.
Washable and reusable, these straps offer light control.
Machine or hand wash. Air dry. Latex-free.
Size & Order Information
Three sizes. 5" long loops fit most fingers. Wider straps offer greater control. Sold in packages of 3, 5, 25, 50 or 100.

1/2" (1.27cm)
3/4" (1.9cm)
1" (2.5cm)

3/Pk
RP1005-3
RP1003-3
RP1007-3

5/Pk
P1005-5
P1003-5
P1007-5

25/Pk
P1005-25
P1003-25
P1007-25

50/Pk
P1005-50
P1003-50
P1007-50

100/Pk
P1005-100
P1003-100
P1007-100

You Might Also Like
Oval-8 Finger Splints
A simple, effective solution to stabilize and align the small joints of the fingers affected by arthritis or injury.
> Learn more


Gel Tubes
Provides soft cushioning and prevents splints from slipping. Washable and reusable.
> Learn more