Stay Informed, Stay Updated, Stay Connected
Clinic Connect offers health care providers an easy way to learn about our products and access information
CLINIC CONNECT
Sign Up & Enjoy the Many Benefits of Clinic Connect
3pp Clinic Connect offers health care providers an easy way to learn about our full line of orthoses, access videos & clinical information and attend Live Product Demos to receive FREE Clinic Samples.
I am an OT and have been going to your product sessions and really appreciate having the splints to show patients so they can purchase.

Wendy G., MAE, OTR/L, CLT
Sports Rehab & Prof Therapy Assoc.
Product Demo: Oval-8 Finger Splints

Discover the versatility of Oval-8 Finger Splints, including the NEW Oval-8 CLEAR, in our comprehensive product demo. Our hands-on demonstration will guide you step-by-step on how to custom fit each splint with a heat gun.

Bonus Demo: 3pp Prima Thumb Brace

Discover the effectiveness of the 3pp Prima Thumb Brace in providing relief for CMC and MP joint problems. Learn how to adjust the Prima Thumb Brace to effectively manage two of the most prevalent thumb conditions with the use of a single splint.

Sign Up & Attend to Receive FREE Clinic Sample

Attend the Oval-8 demo to receive a combination set of 5 sizes of the NEW Oval-8 CLEAR Finger Splint. Attend the 3pp Prima demo and receive a complimentary sample of our popular thumb brace. Secure your slot now and discover the benefits of these innovative products.

* For the best learning opportunity, we encourage you to sign up for both demos.

Demo Times

Demos run approximately 30 minutes. For your convenience, we offer morning and afternoon/evening hours (depending on your time zone)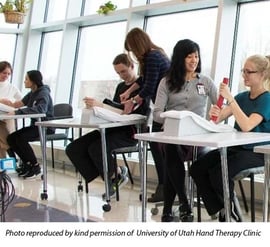 Introducing Our Customized Demos for Clinics & Group Practices
Discover our innovative products with customized demonstrations tailored to your needs. Select the product(s) you are interested in and schedule a time that works best for your team.
Gain valuable insights into the unique features of our products while receiving clinic samples to distribute to your patients. Experience our products firsthand and witness the benefits they can bring to your practice.
What They're Saying
Here's what 3pp Clinic Connect members are saying...
Thank you for the 3pp Prima Thumb Brace! Wore it myself all day and found it comfortable and supportive. I will refer my patients to this product

Nicole C., OTR/L, CHT
Queens Medical Center
Thank you for a very informative session last night. I have not traveled since Covid. I used to attend at least one a year - so programs such as these are excellent.

Hilary B, OT(C)
Carib Rehab
This is a great reference. Thank you, it is super helpful! I enjoyed learning about the CMCcare brace.

Sue G., OTR/L, CHT
Medical Center
Sept 28 - Oct 1,2023
San Antonio, TX
Booth #305

Philadelphia Hand Symposium

March 16 - 18, 2024
Philadelphia, PA
Booth #TBA