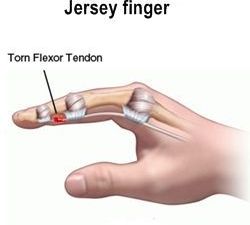 With the NFL season off to a strong start, it's highly likely that many players are starting to sustain injuries not only to their knees, shoulders and ankles but also to their hands. Jersey Finger is an injury that primarily occurs in football and other contact sports. As we roll into the football season, this may be a good time to review what jersey finger is and how it's treated.
What is Jersey Finger?
Jersey finger injury is a traumatic rupture of the flexor digitorum profundus (FDP) tendon from its point of attachment at the base of the distal phalanx.
Read More