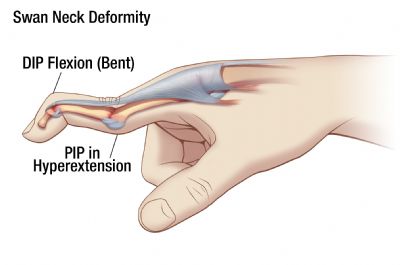 Causes of Swan Neck Deformity
At first glance, diagnosing Swan Neck Deformity seems like a "no brainer". You have visual confirmation of hyperextension of the proximal interphalangeal (PIP) joint and flexion of the distal interphalangeal (DIP). The finger is contorted into the shape of a swan neck. And, your patient has Rheumatoid Arthritis (RA).
Yes. Swan Neck Deformity does show up in about half of all RA patients; but, there are a surprising number of other causes, including Cerebral Palsy, Lupus, Stroke, Parkinson's Disease (PD), Ehlers-Danlos Syndrome (EDS), Marfans, post-traumatic flexor tendon ruptures and ischemic injuries.
Read More