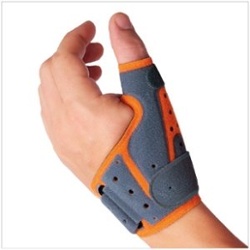 Along with a more common thumb deformity caused by osteoarthritis and rheumatoid arthritis, thumb deformities can also be a result of thenar wasting, caused by median nerve injury or compression.
What causes the deformity?
The median nerve innervates the opponens pollicis (OP) and abductor pollicis brevis (APB). These two muscles make up most of the bulk of the thenar eminence and allow the thumb to perform palmar abduction (thumb opening away from the palm) and rotation for pad to pad prehension.