Osteoarthritis (OA) at the base of the thumb is a common diagnosis among older individuals. Research suggests that 26.2% of women and 13.4 % of men age 71-100 years old have symptoms of this diagnosis and that approximately 70% of community dwelling individuals with hand pain have OA at the base of the thumb as well.
Studies have consistently found that using an orthosis helps to decrease pain and improve function for individuals with arthritis at the base of the thumb. There is no consistent evidence to suggest that one orthosis is more effective than another, however, research does suggest that individuals prefer pre-fabricated designed orthoses.
The Comfort Cool Thumb CMC Restriction splint is a familiar pre-fabricated option, but the 3pp Prima Thumb Brace has potential worth discussing, too. Let's give a closer look to both of these orthoses.
See our Full Line of Thumb Orthoses
Comparison: 3pp Prima and Comfort Cool Thumb Splints
| | | |
| --- | --- | --- |
| Characteristic | 3pp Prima Thumb Splint | Comfort Cool Thumb CMC Restriction |
| Comfort | Soft foam lined stretch material that contours to the hand with natural compression | Perforated neoprene with terry cloth liner |
| Design | Strap to close around hand, strap to provide support to base of the thumb, and strap to secure around thumb MP joint. All straps attach where the fit is comfortable as the orthosis is made of hook-engageable material for custom fit | Strap only to close around hand and to provide support to the base of the thumb. Both straps have to hook onto their specific attachment hook |
| Fit | Place straps where comfortable for custom fit | Follow attachment hook pattern when donning |
| Size | Available in small, medium, and large | Available in x-small through x-large with plus sizes for small, medium, and large. Also available in toddler and youth sizes |
| Cleaning | Machine and hand washable | Machine wash and air dry |
| Durability | Lined edges for improved wear | Reinforced stitching but no lining on edges |
| Color | 4 style options: Available in Black | Available in Black or Beige |
| Purchase | Easy for patients to purchase on ohmyarthritis.com | Readily available when searched on the web |
3pp Prima Thumb Brace
For more information about th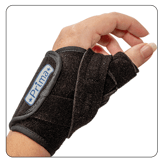 e 3pp Prima Thumb Brace, click on the button below.
Blog References: For more information on this topic, click to see the references for this blog post