Oval-8 Finger Splints provide a highly effective finger orthosis that stabilizes or limits finger joint motion to treat several conditions with a simple turn of the splint. The Oval-8 is uncomplicated, inexpensive and often provides immediate relief for your patients. Oval-8's come in a variety of sizes, and may be worn differently, to ease pain and correct problems associated with many conditions including, but not limited to: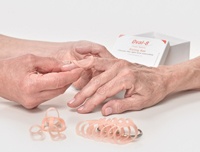 Arthritis
Boutonniere Deformity
Crooked/Deviated Finger
Fractures
Hypermobility (EDS)
Jammed Finger
Mallet Finger
Swan Neck Deformity
Trigger Finger and Trigger Thumb
Download the Oval-8 eBook for Health Care Professionals for more information
Sizing the Oval-8
Sizing Oval-8 splints correctly is critical to a proper fit and successful treatment.The Oval-8 Sizing Set, ideal for use in the clinic or office, allows clinicians to quickly and accurately determine which sizes each client requires to fit snugly around the PIP or DIP joint.
The Oval-8 Sizing Set includes one of each of the fourteen sizes, size 2 thru 15, and has size adjustability built in. The band is angled to allow each splint to fit tighter or looser depending on which end is fit on the finger first. The name Oval-8 is etched on the band followed by the splint size. Holding the splint up to a light makes it easier to see the size.
Using the Sizing Set

To use the Sizing Set, choose a few splints likely to fit the joint you are treating. Slip the splint on the finger. If it's a bit too tight or loose, turn the splint to see if that provides a better fit. Try other sizes as needed until you achieve a tight, but comfortable fit.