Introducing 3pp Clinic Connect
Much has changed in the last year, but it has not changed our commitment to healthcare providers and their patients. We are proud to introduce our NEW 3pp Clinic Connect program to better serve healthcare professionals and offer a new convenient way to Stay informed, Stay updated and Stay connected with 3 Point Products.
With 3pp Clinic Connect, we can now offer clinicians easy online access to product information, ongoing updates and live product demonstrations at times that are most convenient to them. In addition, we provide coupons for patients to use on our OMA site and ways for healthcare providers to earn additional samples and save when purchasing direct from 3 Point Products.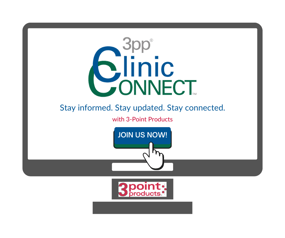 Live Product of the Month Demos
Every month Clinic Connect members can sign up to join a live Product of the Month Demo via ZOOM. Healthcare professionals who sign up and attend a demo will learn about exciting NEW and trusted classic products and receive a free sample of the highlighted product to try on and keep in the clinic.
In March, we introduced our "Product of the Month" feature with demonstrations of our NEW 3pp Prima Thumb Brace. To date, we have provided over 60 FREE SAMPLES of the Prima brace to new 3pp Clinic Connect members. We will continue to grow on this success with a new product every month. (*March 2021 Product of the Month shown below)

Patient Direct Purchasing
By making our orthoses available for direct patient purchase, our mission has expanded to include the Oh My Arthritis website with knowledgeable, friendly customer service who assist patients in purchasing the products their healthcare providers recommend.
Clinic Connect members will receive custom coupons for patients to use on OMA. Each time a patient uses the custom coupon code, points that can be redeemed for clinic samples or savings when ordering from 3-Point Products.
Clinic Connect is free and easy and there is no obligation once you become a member. Sign up and be the first to learn about new products, promotions, earn free clinic samples and more...