The CMCcare Thumb Brace functional design leaves the ulnar side of the hand free and stabilizes the CMC to allow unimpeded function for excellent patient compliance.
Features of the CMCcare include:
Smooth edges and carefully contoured design reduces pressure around the thumb and through the web space. Can be cushioned with a 3pp Cozy Liner or Gel Mate® silicone gel for added comfort.
Strap is removable and replaceable and is easily adjusted at both ends. A simple squeeze of the aluminum stay molds around the CMC joint.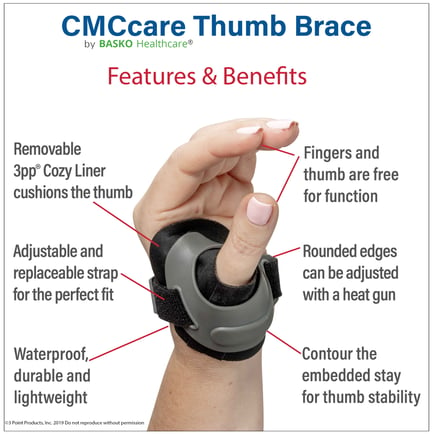 The careful design of the CMCcare Thumb Brace eliminates the need to make any significant adjustments; however, the edges can be flared using a high temperature spot heat gun if necessary.
To learn more about custom fitting and replacing the strap on the CMCcare Thumb Brace, take a look at these short videos with step by step instructions.
View Our Videos
Fitting the CMCcare Thumb Brace
How to Heat the CMCcare for a Custom Fit
How to Replace the CMCcare Thumb Strap