The 3pp® Side Step Splint uses a static progressive stretch to reduce deviation of the PIP or DIP joints caused by arthritic deformity or injury. Also used to treat osteoarthritis, Heberden's & Bouchard's nodes, collateral ligament injury and ligament injuries.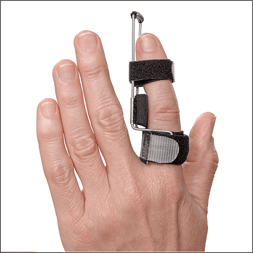 New Improved Design
We are excited to announce an improved design of the 3pp® Side Step™ Splint for easier application. We have replaced the strap that wraps around the desired IP joint with a loop strap. This allows the wearer to easily apply the strap around the IP joint without the need to apply an adhesive hook receptor to the wire frame.
The wearer only needs to slide the loop of the loop strap on the finger, either at the PIP or DIP joint and wrap the strap around the wire and the finger. This also allows the wearer to easily adjust the tension to tolerance.